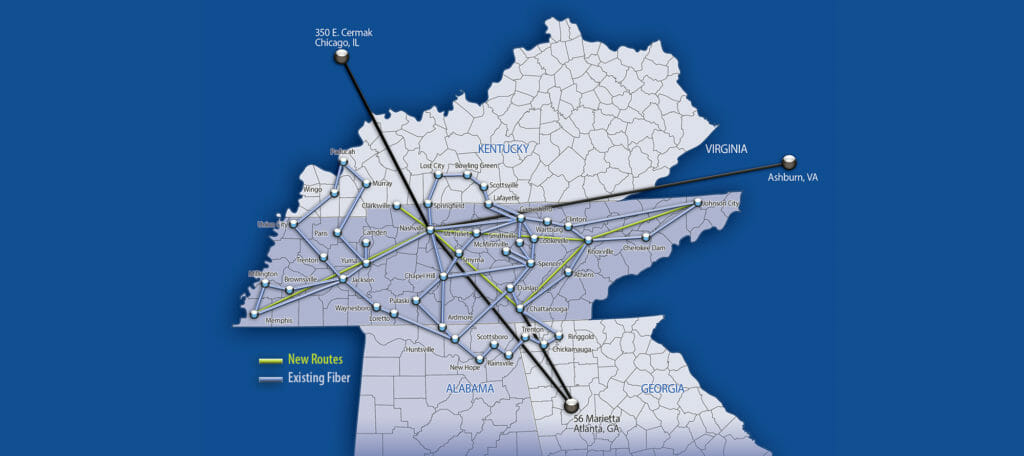 iRis Networks announces plans to construct three new key routes in Tennessee. The key segments, totaling over 897 miles, are Johnson City–Knoxville–Chattanooga, Memphis–Nashville–Chattanooga and Knoxville–Nashville–Clarksville.
Tennessee and the surrounding region are experiencing significant growth in the demand of broadband infrastructure and services. Businesses and service providers are looking to increase their connectivity and capacity between locations as they compete in a global economy. The increased demand of this connectivity is why, over the last two decades, twelve independent telephone companies in the Greater Tennessee area came together with the goal of delivering a 100% fiber-optic broadband network, with particular interest in servicing underserved rural markets and providing a digital highway to metropolitan areas in and around Tennessee.
"We're excited to help expand the reach and connectivity of Tennessee and the region," said Terry Metze, president of iRis Networks. "These new routes will offer economic development opportunities to customers ranging in size from small to enterprise-level businesses as well as national and regional telecommunications providers."
Highlights of the Expansion:
Engineering is in progress with construction planned to start later this year.
The expansion will connect several key metropolitan cities and rural communities along the new routes.
Along the route, iRis will offer its full suite of services which include Carrier Ethernet, Dark Fiber and Internet Access to businesses and communication service providers.
While iRis has established partnerships with anchor tenants, they are open to working with additional partners.
"At iRis, our mission is to serve rural communities with uncompromising dedication, from the ground up, and we do that by helping connect our local networks," says Tim Adkins, iRis' Vice President of Business development. "We've got the network that can take you from Tusculum to Tokyo, and a hands-on local support team—right around the corner."
About iRis Networks
iRis Networks delivers state-of-the-art, fiber-based transport for voice, data and Internet in and around Tennessee. Operating over 5,000 route-miles of fiber, iRis is uniquely positioned because it provides a gateway of broadband transport to over 250 rural communities in Tennessee, Kentucky and Alabama. iRis also provides fully redundant, high-capacity transport between the larger regional markets of Nashville, Knoxville, Chattanooga, Memphis and Atlanta.
For more information, please contact 615-425-2300 or visit www.iristransport.com.
About iRis Networks
We deliver the fiber-based, next-generation network and infrastructure businesses need. We're bringing ultra-high-speed voice, data and Internet solutions to over 250 communities, reaching across Tennessee and parts of Alabama, Georgia and Kentucky.
Share this Post
Recent Posts