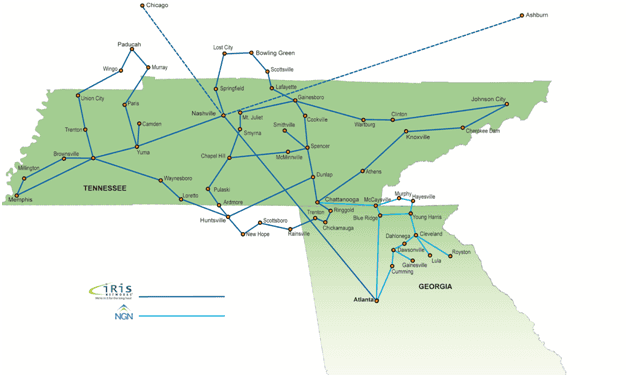 NASHVILLE, Tenn., and CLARKESVILLE, Ga. – iRis Networks and NGN announce that the companies have established a fiber Ethernet interconnection to combine the capabilities and reach of both networks, and to strengthen broadband availability between Nashville, Knoxville and Cleveland, Tenn., and Atlanta and North Georgia.
The interconnection of networks will provide the region's business community with access to broadband connectivity services from 1Mbps to 100Gbps and will also be a selling point for attracting new companies to the area that require high network speeds. In addition, the network will provide more opportunity for national providers, both wireless and wireline, to utilize rural fiber networks to deliver services to their customers.
NGN's network offers a unique middle mile and local distribution network routes that connect 17 counties in North Georgia. The iRis network reaches over 100 communities in Tennessee, Kentucky and Alabama, as well as regional carrier hotel locations in Nashville, Atlanta, Ashburn and Chicago.
"We have the same goals for our networks: bring more broadband capabilities and services to rural areas, provide the broadband connections in and out of our local communities, and provide a seamless connection to national providers at carrier hotels. We know that connectivity is a catalyst for economic development and this partnership is a great example of that," states Terry Metze, president of iRis Networks.
"One of the best things about this interconnection is that our networks and our goals are very complimentary. Both NGN and iRis have extensive local rural distribution and middle mile network capabilities and connect those to carrier class meet points. We look forward to enabling the economic growth in this region and forging key partnerships where we can combine the scope and reach of our networks," states Paul Belk, president and CEO of NGN.
About NGN:
NGN is a member-owned cooperative founded in 2009 and operating over 1,600 miles of fiber optic infrastructure from its headquarters in Clarkesville, Ga. NGN's state-of-the-art, low-latency digital optical network serves solutions to carriers, service providers, and technology-reliant businesses and organizations across the Southeast. NGN is unlike most telecommunications corporations, as it is a corporation of cooperatives, owned by its members including Habersham Electric Membership Corporation (HEMC), Blue Ridge Mountain Electrical Membership Corporation (BRMEMC) and NGN Connect.
For more information, please visit www.ngn.coop and connect with us on Twitter and Facebook.
For NGN media inquiries, please contact: Jaymie Scotto & Associates jsa_ngn@jaymiescotto.com
1.866.695.3629 ext.23
About iRis Networks:
iRis Networks is the choice for a wholesale carrier's carrier delivering state-of-the-art, fiber transport for voice, video and data in and around Tennessee over 5000 route miles of fiber. IRis is uniquely positioned because it provides a gateway of broadband transport to over 100 rural communities in Tennessee, Kentucky, and Alabama. iRis also provides fully redundant high capacity transport between the larger regional markets of Nashville, Knoxville, Chattanooga, Memphis, and Atlanta.
For more information please contact 615-425-2300 or visit www.iristransport.com.
For iRis Networks media inquiries, please contact:
Ronin Technology Advisors
Steve Smith
steve@roninpbr.com
303-678-1844 x106
About iRis Networks
We deliver the fiber-based, next-generation network and infrastructure businesses need. We're bringing ultra-high-speed voice, data and Internet solutions to over 250 communities, reaching across Tennessee and parts of Alabama, Georgia and Kentucky.
Share this Post
Recent Posts