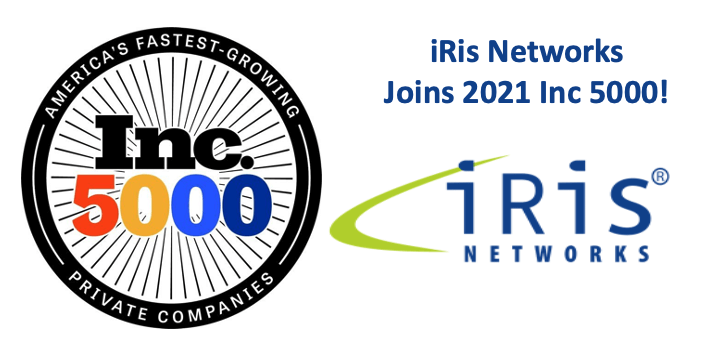 Tremendous three-year growth merits inclusion on America's fastest growing private company list
NASHVILLE, Tenn. – August. 31, 2021  iRis Networks (iRis), a Tennessee-based state-of-the-art fiber optic network services provider, is honored to make its debut on Inc. Magazine's 2021 list of America's fastest-growing private companies. Inclusion and ranking in the Inc 5000 is based on revenue growth, industry, metro area, and number of employees.
iRis CEO Chris Clark, shares "We are honored to have iRis included on this distinguished list and we're thankful to our customers for helping us achieve this recognition. Our team members are also critical to our success, and this acknowledgment highlights their hard work and dedication."
"The 2021 Inc. 5000 list feels like one of the most important rosters of companies ever compiled," says Scott Omelianuk, editor-in-chief of Inc. "Building one of the fastest-growing companies in America in any year is a remarkable achievement. Building one in the crisis we've lived through is just plain amazing. This kind of accomplishment comes with hard work, smart pivots, great leadership, and the help of a whole lot of people."
Over the past 3-years iRis has experienced significant growth. According to Inc. 5000, "Brains, bravery, and optimism propelled these businesses to our annual fast-growth list, even amid the pandemic."
For over twenty years, Iris Networks has provided network connectivity, dedicated internet access, and unified communications to telecommunications carriers and business customers in 250+ communities across Tennessee, and surrounding states.
About iRis Networks:
iRis Networks delivers state-of-the-art, fiber transport for voice, video and data in and around Tennessee over 5000 route miles of fiber. IRis is uniquely positioned because it provides a gateway of broadband transport to over 250 rural communities in Tennessee, Kentucky, Georgia and Alabama. iRis also provides fully redundant high capacity transport between the larger regional markets of Nashville, Knoxville, Chattanooga, Memphis, and Atlanta.
To learn more, give us a call at 615-425-2300 or visit www.irisnetworksusa.com and connect with us on Twitter, Facebook and LinkedIn.
iRis Networks Media Contact:
mediarequests@irisnetworksusa.com
615-425-2300
www.irisnetworksusa.com
About Inc. Media and Inc. 5000
The prestigious Inc. 5000 list has been published annually since 1982. Inc. analyzes company data to identify the fastest growing privately held companies in The United States. The national and global recognition that comes with being inducted into the Inc 5000 gives the leadership of the nation's best companies the opportunity to connect with an exclusive community of their peers, and the credibility that helps them grow sales and recruit talent. The associated Inc. 5000 Vision Conference is part of a highly acclaimed portfolio of bespoke events from Inc. Companies on the 2021 Inc. 5000 are ranked according to the percentage of sales growth from 2017 to 2020. For more information, visit https://www.inc.com/inc5000/2021.
About iRis Networks
We deliver the fiber-based, next-generation network and infrastructure businesses need. We're bringing ultra-high-speed voice, data and Internet solutions to over 250 communities, reaching across Tennessee and parts of Alabama, Georgia and Kentucky.
Share this Post
Recent Posts