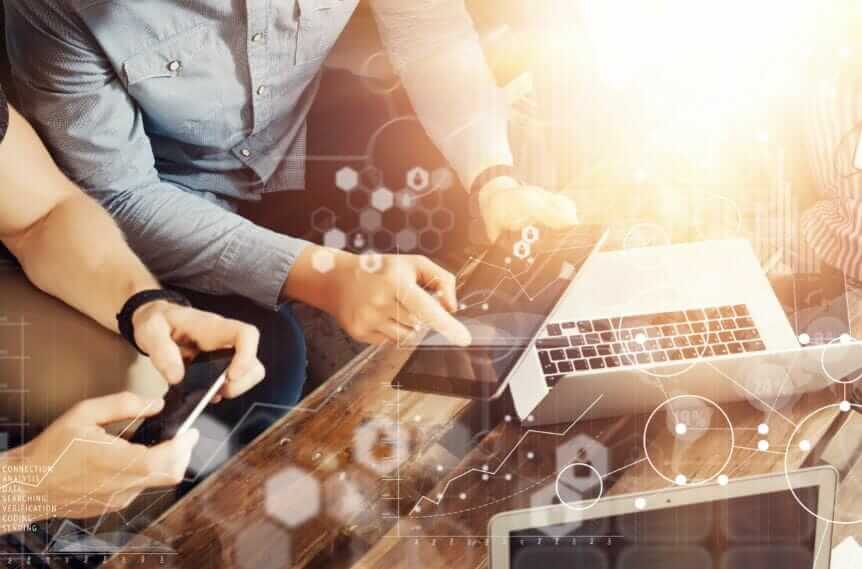 We're all in agreement that 2020 was rough.  As we move into 2021 and think about how businesses can not only survive but thrive it's clear from the lessons in 2020 that one of the best ways to foster true measurable growth is to leverage the power of technology. While "technology" is an extremely broad term, it's also fair to suggest that "technology" offers a broad range of solutions for business leaders who are seeking to drive efficiency, convenience, performance, and effectiveness all throughout their operations. In this post, we'll take a look at 5 things you can do to grow your business with technology in 2021. Let's take a look below.
Digital Marketing
One cannot possibly underestimate just how effective digital marketing is in today's world. After all, we live in a digital-driven age where anyone, and everyone, has a presence on the web. With that presence comes an increased ability for businesses to selectively target their chosen audience and engage with customers/consumers on a level that has never been seen before. With the advent of social media, Facebook, Instagram, LinkedIn, and even Twitter offer businesses prime opportunities to connect with an audience seeking their products/services.
Business On The Cloud
In terms of making things more efficient, affordable, flexible, and scalable, Cloud technology is as good as it gets – and it's pretty darn good. Cloud applications make it easier for businesses to access high-end applications and software programs at an affordable price and without having to revamp their IT infrastructure. Not to mention, Cloud applications cover virtually every aspect of business, from HR and payroll, to storage, virtual servers, and customer portals.
Security Made Simple
As the world grows increasingly more connected, security will have to evolve and grow to counter the various cyberthreats that exist each and every day. With that in mind, businesses are levering more powerful security systems like NordVPN, Norton, and Kaspersky to embrace features like two-way authentication, encryption, and even blockchain to keep their data, their information, and that of their customers safe and secure.
Guest Wi-Fi
This is an interesting one – and it's likely something that you haven't thought of just yet. But in fact, leveraging your Wi-Fi connection to offer your customers some added value is a great way to grow your business in 2021. Essentially, Guest Wi-Fi is a perk that you can offer your customers when they come into your store or your office space. And not only that, but you can also personalize their experience through the data that you'll collect. Drive engagement, add value, and ensure more sales.
Business Analytics
Last, but certainly not least, you can use technology to open up a brand new world of business analytics that you can use to grow your business. With so many automated analytics applications available, you can take a long, hard look at the data that you collect through generated reports that are easy top read and bring you right to the heart of your efficiency. With business analytics, you can gain the insight you need to make wiser, smarter, and more informed business decisions. There's several good options out that can give you the capabilities you want and won't break the bank like Clicky and Google Analytics have a solid robust website reporting  platform with free and premium versions. If you're looking for a good data visualization tool  Microsoft Power BI is intuitive, feature rich and can help you visualize business data on everything from gross profit and revenue to store/warehouse demand and turnover. They're ideal for learning about how to look at your data and determine which strategies are working and how you can improve the ones that aren't.
If you're looking for some additional resources to enable your business here's some links you may like:
At iRis, we're passionate about enabling our customers and communities with our connectivity solutions.  We would be delighted to help your business get on the fast track to efficiency and sustainable growth. Let us help you add the advantage of ultra-high-speed voice, data and internet solutions to your business. Contact us here to start a conversation today.
About iRis Networks
We deliver the fiber-based, next-generation network and infrastructure businesses need. We're bringing ultra-high-speed voice, data and Internet solutions to over 250 communities, reaching across Tennessee and parts of Alabama, Georgia and Kentucky.
Share this Post
Recent Posts