Hello. We'd like to introduce ourselves, we're iRis Networks.
We may be the best kept secret in Tennessee.  We've been building next generation fiber networks and serving customers across the state and region for over twenty years.  Our leadership team has 100+ years in the communications industry, so you can trust that we know what it takes to deliver these services to you.
Our fiber network covers 250+ communities across the state and region, and we enable the wireless carriers to connect as well as some of the local and regional companies serving the rural parts of our state.  If you've ever done any of these things outside of Jackson, Memphis, Nashville, or Knoxville:
Talked on a cell phone
Streamed a video from Netflix or Amazon
Surfed the web
Purchased something with a credit card at a national chain store or restaurant
Then you've been on our network.
Over the years we've worked hard to connect communities with next generation communication because we know the impact that it has.  From stay at home moms, to remote workers, small business, new manufacturing sites, and large national chains. Today, we're offering business services to companies of all sizes..not just carriers.  So whether you need high speed internet, a new unified communication solution, or just connect with us on facebook or twitter.  We're happy to meet you and hope we can have the privilege of working with you.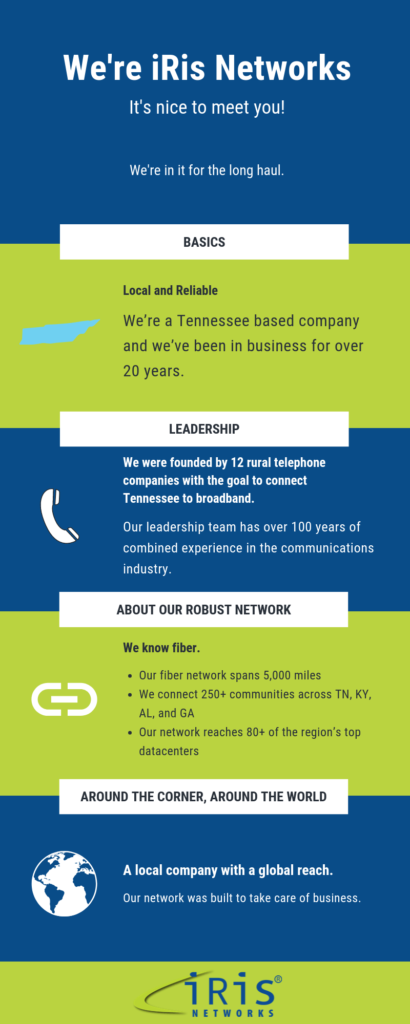 About iRis Networks
We deliver the fiber-based, next-generation network and infrastructure businesses need. We're bringing ultra-high-speed voice, data and Internet solutions to over 250 communities, reaching across Tennessee and parts of Alabama, Georgia and Kentucky.
Share this Post
Recent Posts